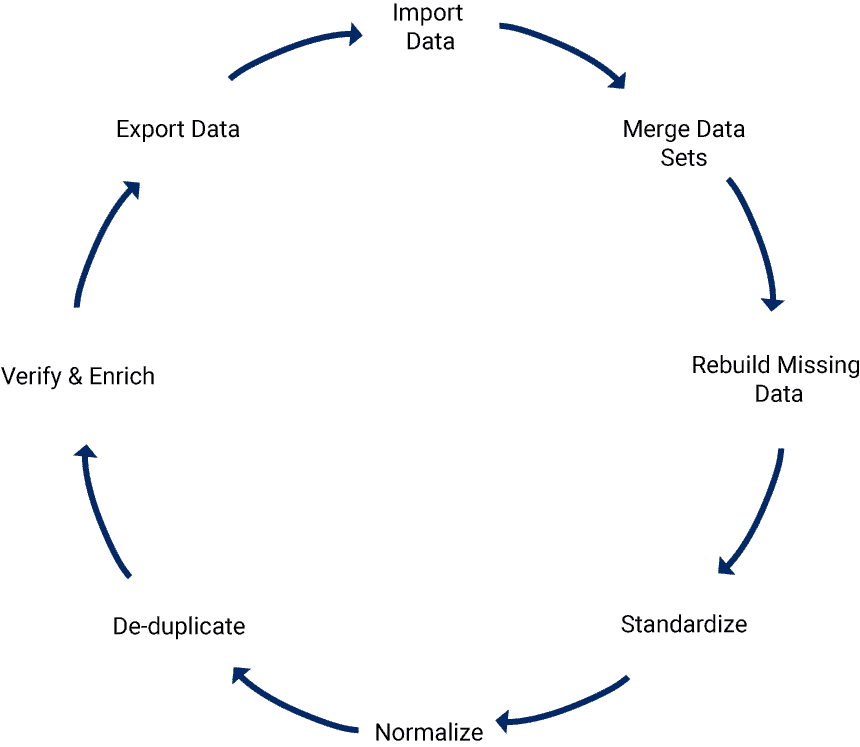 WHAT IS DATA HYGIENE?
Data hygiene is the collective processes conducted to ensure the cleanliness of data. Data is considered clean if it is relatively error-free. Dirty data can be caused by a number of factors including duplicate records, incomplete or outdated data, and the improper parsing of record fields from disparate systems. Errors can be introduced at any stage as data is entered, stored and managed.
Data scrubbing, also called data cleansing, is the process of amending or removing data in a database that is incorrect, incomplete, improperly formatted, or duplicated. Typically the process involves updating it, standardizing it, and de-duplicating records to create a single view of the data, even if it is stored in multiple disparate systems.
In the world of CTG, our data hygiene services typically revolve around your customer or prospect data.  It is very rare to find a business with a clean and up to date customer relationship management (CRM) or marketing automation platform (MAP).  Marketing research shows that B2B data decays at a rate of around 2% per month.
OUR DATA HYGIENE ACTIVITIES INCLUDE
CLEANSE AND VERIFY
Your B2B data is run through data hygiene software to verify account, contact and prospect information.
MANUAL CHECK AND VERIFY
Your B2B data is then manually checked and verified by our analysts.
CLEANSE AND SPOT CHECK
Your B2B data is again run through data hygiene software and spot checks are performed to ensure the returned data is accurate as possible.
CLIENT'S TESTIMONIALS
CTG has been a tremendous asset to our North American sales and marketing operations.  They have supported us and the Head Of North American Marketing on a variety of different outbound lead generation and top of funnel campaigns in a highly competitive email and web security and compliance market. They also helped us land a software evaluation with a 10,000 employee government agency. It has been great working with CTG and I would highly recommend the organization.
North American Sales Director
Global Enterprise Cybersecurity Solution Vendor
CTG helped bring focus to our sales and marketing efforts. We researched many sales and marketing tools out there but CTG helped bring clarity to our final decision on a new CRM and they managed the implementation, training and support.
Managing Partner
Software As A Service (SAAS) Firm
CTG has been instrumental with helping build our online e-commerce infrastructure with Wordpress and Woocommerce.  They have also increased our lead flow through expertise in Google Adwords which has generated higher sales for us each month with significantly reduced ad spend. Our click-through rate has never been higher helping our bounce rate become enviably low! I highly recommend CTG for your next e-commerce project or Google Adwords campaign. They are organized, communicates well, and follow through on their commitments and tasks.
CEO
E-Commerce Firm