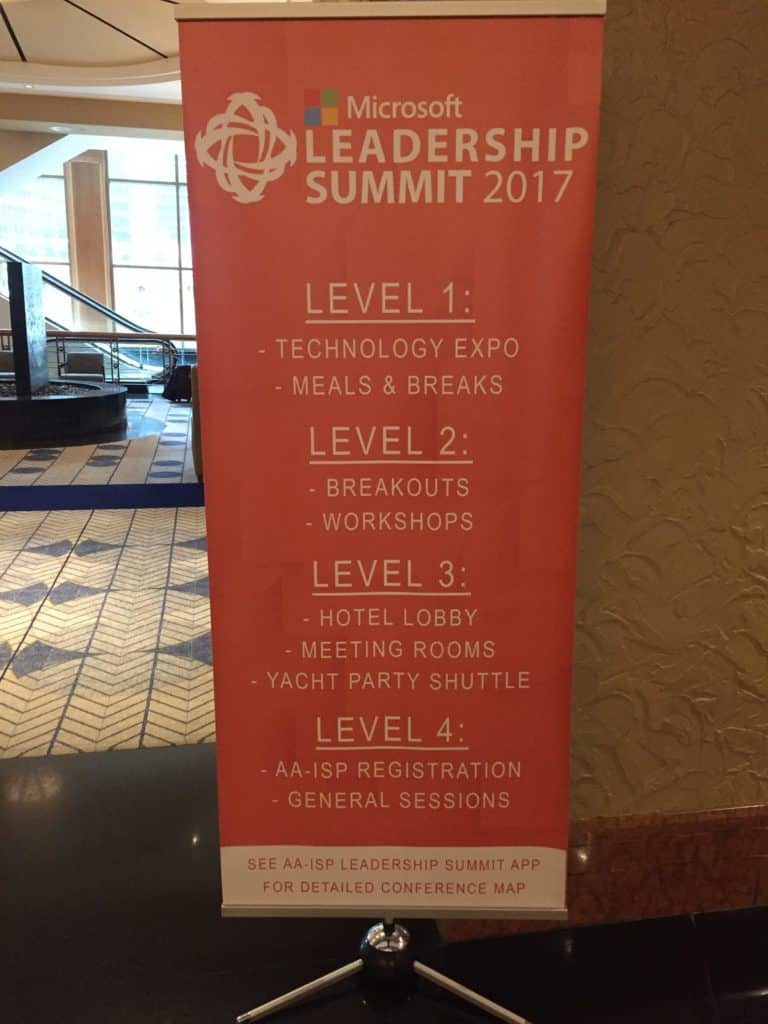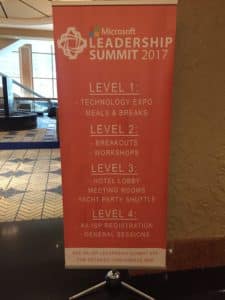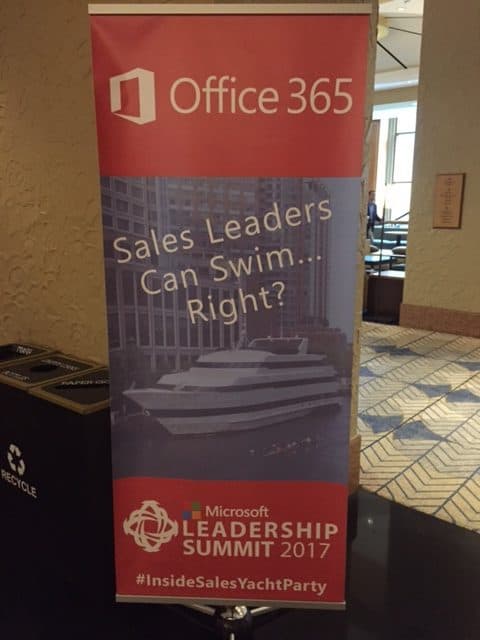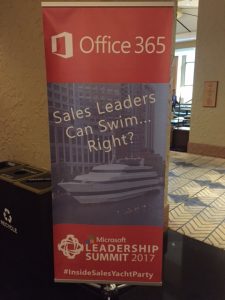 2017 AA-ISP Leadership Summit in Chicago
I attended the American Association of Inside Sales (AA-ISP) Leadership Summit in Chicago two weeks ago.  The 600 plus audience was made up of sales leaders, educators and vendors of small and large multinational organizations.  It was interesting to learn that the first summit was only a handful of people in Chicago and now, nine years later, the rooms are overflowing.  The main sponsor was tech giant Microsoft which gave further evidence that the profession of "inside sales" is mainstream and rapidly growing.
Why is inside sales growing?  It is exploding because of the massive increase and adoption of digital selling technologies.   Digital selling technologies lower costs for organizations throughout the selling process and allow sales teams to be more productive and efficient.
I was impressed by the AA-ISP organization itself and their efforts in making it a successful conference for the attendees.  Ashley Becker, Jen Gergen, Bob Perkins, Larry Reeves and many other staff members were engaging and instrumental in making it a successful event.
My Goal
My goal of attending the conference was to "be a human sponge" and to soak up as much information as possible.  It was an awesome opportunity to learn and stay on top of the latest trends which in turn benefits my clients.   I also networked with some of the best inside sales leaders in the world.   Below I share some thoughts from what I learned.
Sales Technology – Past, Present and Future
The first keynote entitled Sales Technology – Past, Present and Future was given by Matt Reid, Vice President of Marketing, Velocify.  Matt quickly reminded us of how far we have come in sales technology in such a short amount of time.  For example, it was not that long ago when yellow pages were used as the lead source and the phone on the desk was the only prospecting tool, other than physically going door to door.  I started my selling career as an inside sales representative at Comstor, a Cisco Systems distributor out of Boulder, Colorado, in 1998.  Our selling technology consisted of an AS/400 database, a phone, email, a desk, a headset, a notebook, a pen and chair amongst your closest inside sales friends in a "bullpen" environment.  Today, times have changed dramatically and the efficiency and productivity gains are enormous mainly due to digital technology.  Take a look at this 2016 VBP Profiles Inside Sales Technology Landscape eye chart.
Have a headache yet:)?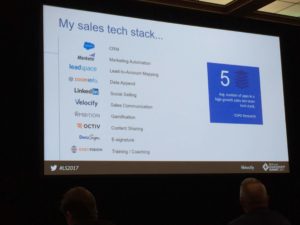 Matt shared Velocify's sales technology stack with the audience.  As you can see, they leverage ten different applications.  He referenced TOPO Research and they say that five is the average number of applications that are being leveraged in a high growth sales development team stack.  I think it is important to keep in mind that what may meet the needs of Velocify, a relatively young (founded 2004), 150+ employee, fast growth software as a service firm may not meet the needs of your particular organization and team.  But still, I think it is a good data point to reference and learn from.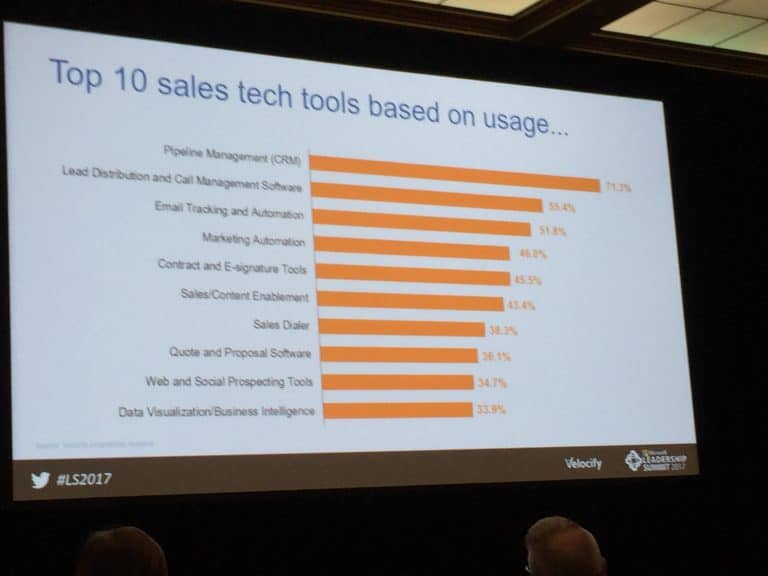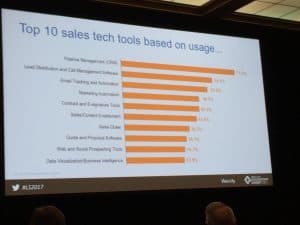 Matt also shared a slide that may been one of the most basic, yet, helpful slides I saw over the entire two and half day conference.  Reason being, it hit home on some of the areas where I have tended to focus on in my consulting.  It was the "Top 10 sales tech tools based on usage"…  The term USAGE kept coming up in many of the sessions.    Usage is defined by Merriam Webster dictionary as a firmly established and generally accepted practice or procedure.  The top three are:
Pipeline Management (CRM)
Lead Distribution and Call Management Software
Email Tracking and Automation
He called the three above "must haves".  As you go down the list, you start to find "nice to have" technologies. Gamification, video conferencing and territory/quota management were listed here among many others.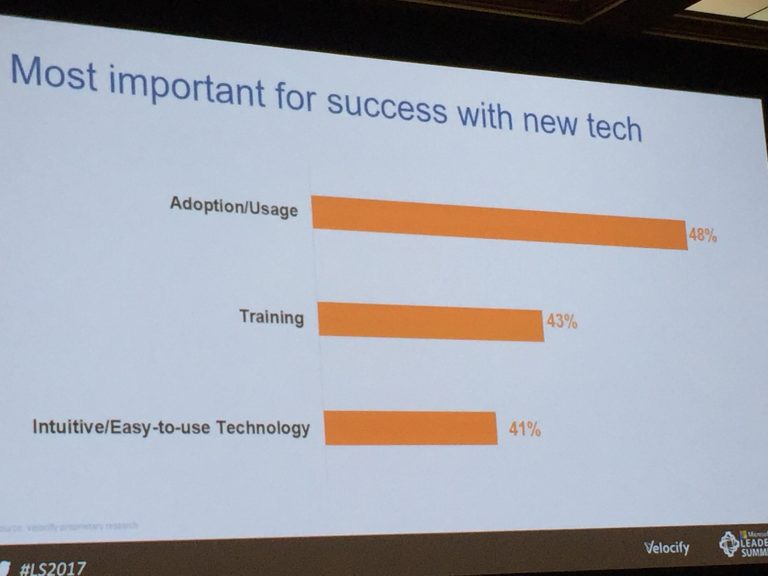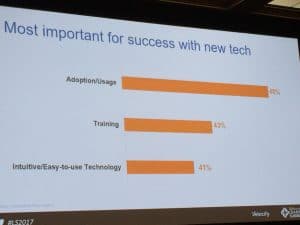 With any selling technology, he shared a slide that was telling and it gets back to our favorite word, USAGE.  It stated the top three things that made for success with new tech.
Adoption/Usage
Training
Intuitive/Easy to Use Technology
In other words, your sales team needs to adopt the tool or it will be of no use to anyone.  It will drain the company's expenses assuming it is a monthly subscription fee.  For example, if your sales team hates your CRM and does anything they possibly can do not to use it; chances are slim it will be of any productive use to you and management.  As the saying goes, "Bad data (or no data) in, bad data (or no data) out.  Second, training needs to occur to increase your success on that particular tool.  And, to be clear, it is not a "one and done" training, but it is on-going training so existing employees and new ones know how to maximize the tool and everyone is using it the same way (standardization).  Third, the technology has to be intuitive and easy to use or it will not be utilized.  In other words, if you are a vendor and the software can do incredible things but is not easy to use, chances are high it will not be adopted.  And, this message can also be applied to an ambitious VP of Marketing that wants to collect all sorts of interesting data in the CRM, however, it is a huge pain and time waster for the sales team to collect which decreases adoption rates.  The end result is low technology adoption rates, bad data in, bad data out and a monthly expense not being leveraged.
So much more great content to Matt's presentation, but I'll stop there.  I had a chance to meet Matt at the Velocify booth later in the conference.  Sharp guy.  I was able to see why he was one of the speakers for the conference.  It was an honor to meet him and I'll be sure to keep tuned in when Matt shares his thoughts on the industry again.
Digital Transformation
The next session I would like to highlight was a panel discussion on Digital Transformation.  I Googled Digital Transformation for this post and this is the first definition that is presented.
Digital transformation is the profound and accelerating transformation of business activities, processes, competencies and models to fully leverage the changes and opportunities of digital technologies and their impact across society in a strategic and prioritized way, with present and future shifts in mind.
Bob Perkins hosted Jill Rowley and Thomas Dekle on stage with him.  Jill is a world renowned social selling expert and Thomas is Vice President of Digital Sales for IBM.  They both were experts and gave thoughtful answers.  Here are a few things I pulled out of the discussion.  First, as Thomas stated, it's more of a digital evolution versus transformation.  Semantics aside, I agree with Thomas that digital will continually evolve in our lives versus transform from one thing to another.  They also discussed how digital is pushing us to be more open, transparent, always on and alway connected.  This is the new reality and as sellers we need to adopt.  They discussed the term "born in the cloud" and acceleration and adoption of e-commerce.  For example, with commodity products, the need for a salesperson has diminished if not has been eliminated.  Therefore, customer success is key to maintain that relationship once they are a client.  In the world of software, USAGE came back up and the rise of the customer success team as critical.  As additional reading, I found this recent Forbes post on the Future of B2B E-Commerce written by Louis Columbus of value.  Here is a quote from the article.
74% of B2B buyers research half or more of their work purchases online before buying according to a recent Forrester study. The same study found that 30% make half or more of their work purchases online today, and 56% expect to make half or more of their work purchases online in 3 years.
On the topic of social selling, Jill mentioned that a "fool with a tool is still a fool".  In other words, you still need to use digital tools (i.e. LinkedIn) appropriately to be effective.
The Pitfalls of Conventional Sales Tactics and How to Avoid Them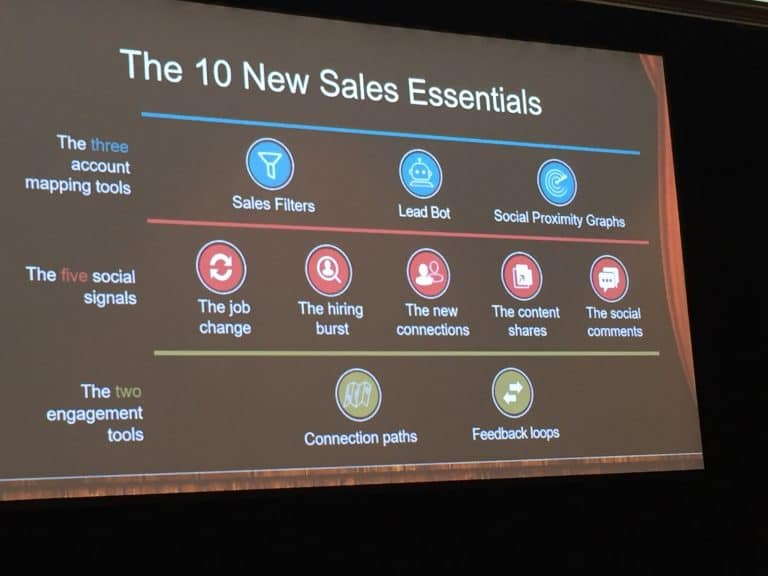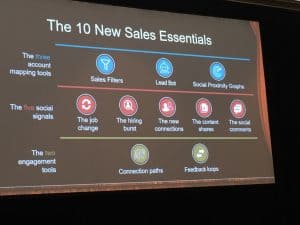 Another session I enjoyed was entitled The Pitfalls of Conventional Sales Tactics and How to Avoid Them given by Justin Shriber.  Justin is LinkedIn Sales Solutions Vice President of Marketing.  He provided an entertaining session filled with lots of great content.  The one slide that I found most helpful was the "The 10 New Sales Essentials".  It went through some of the features of LinkedIn Sales Navigator that map to these 10.  As a LinkedIn Sales Navigator client, this slide was a good reminder for me to "eat my own dog food".  In other words, I'm paying for the tool and I need to leverage all of its capabilities to ensure it is a worthwhile investment.
Other Notable Vendors, Service Providers and Technologies
I would like to spend more time at a later date sharing with you what I learned from the following list.
Yacht Party!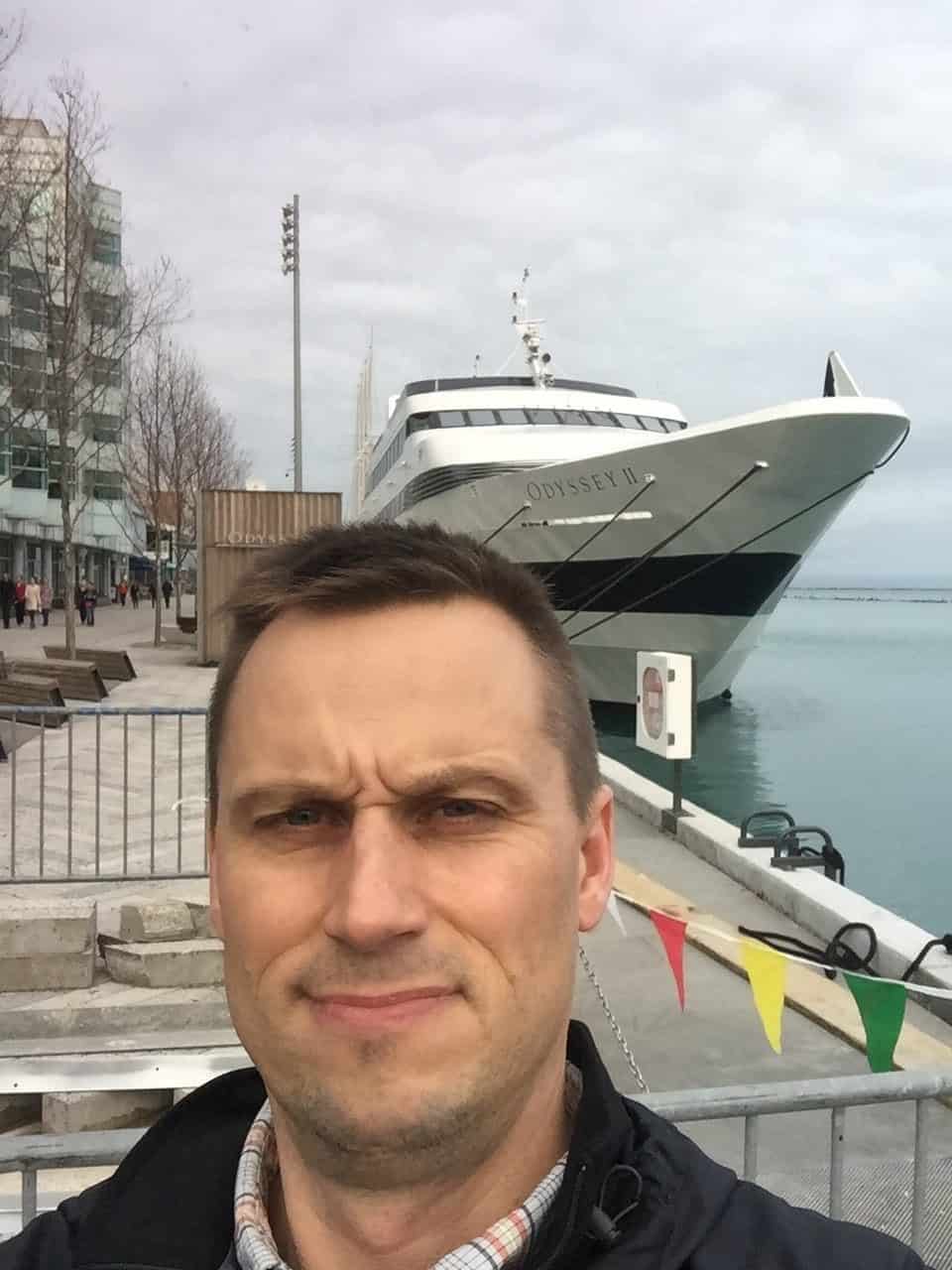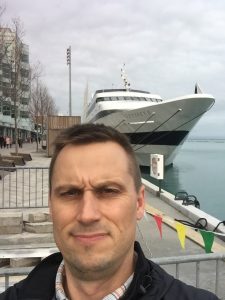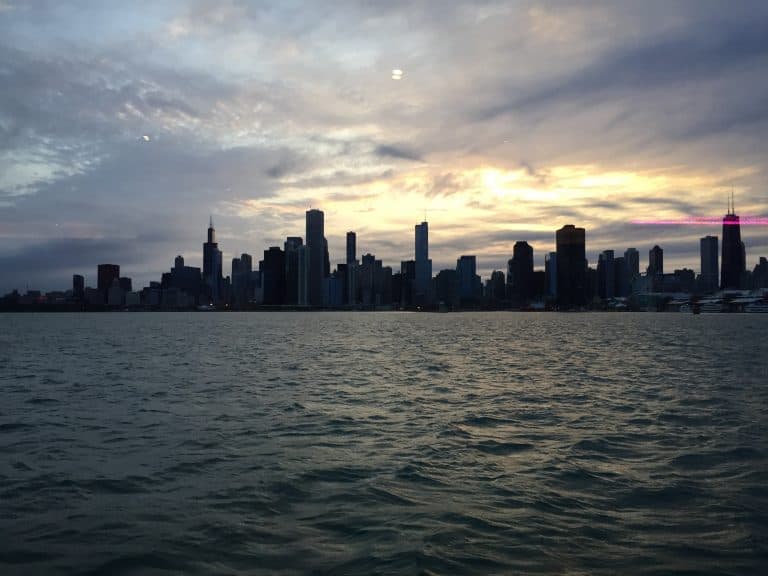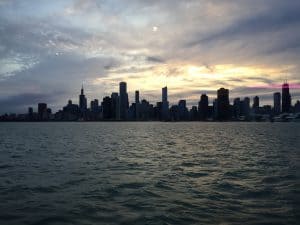 We had an opportunity to head out on a yacht from Navy Pier to blow off some steam and network on Wednesday evening.  Thanks Microsoft and AA-ISP for picking up the tab!  Here is a picture I took out in Lake Michigan overlooking the Chicago skyline.  It was pretty cool!
Marketing Swag for the Kids!
And finally, I did score a fair amount of marketing swag from the vendors for our two daughters back at home.  As you can see, it was like Christmas morning for the girls with all the goodies.  So, thank goes out to all the teams that were working the booths and for your generosity.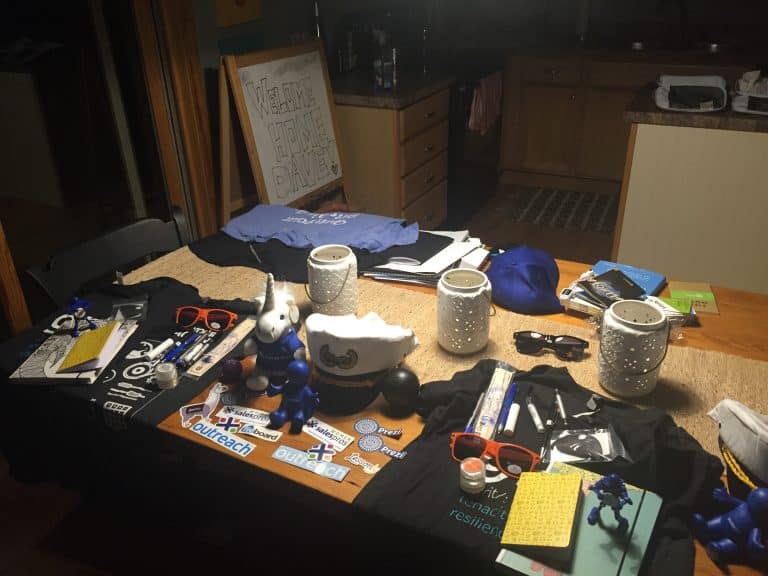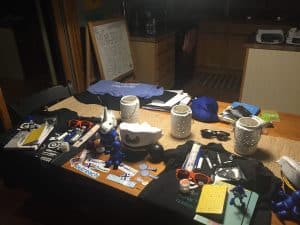 Summary
I have so many additional thoughts I would like to share about more of the sessions I attended and the great people I had met.  I intend on coming back and adding to this post over time or creating new posts on topics that are of interest to its readers.  It was a tremendous experience and I accomplished my goal of acting as a "human sponge".  If you should have questions on what you have read or would like further information about the conference, feel free to leave a comment below or direct message me.