Why Marketing Should Own Salesforce Lead Conversions
As opposed to your sales team, marketing should own salesforce lead conversions when using outside appointment setting agencies.  In this post, I will share five benefits to why this should be.  Before we dive into these, I would like to spend some time on definitions, context, problems and the solution.
Lead Conversion and Sales Process
Lead conversion in the sales process is a major milestone.  It is considered to be the second most important behind marking a deal closed won.  Lead conversion indicates that the prospect is someone you should invest time in and with the potential to become a new customer. For that reason, lead conversion is a key metric that both sales and marketing use to measure their efforts.  Below is the Salesforce Sales Process Map.  The lead is qualified/converted on slide three.
Current Process was Broken
I was asked by one of our enterprise technology vendor clients to help with their lead conversion process. Our contact explained that the current process of handing leads over to sales was broken.  The leads were being generated from an outside appointment setting agency.  Sales had the responsibility of converting the leads into opportunities in Salesforce.  In some cases, existing contacts also were considered leads so in those instances, "new opportunities" had to be created and tagged with the appropriate marketing campaign.  Key information was required to convert/create these opportunities.  This information included:
TQL Lead = TRUE
Next Step = Date of the set meeting
Stage = Stage 1 Prequalified
Close Date = 6 months out
TQL Description = Includes logistics of appointment (i.e. date, time, account name, contact info, etc) as well as a summary of the conversation with the prospect
Opportunity Owner = Account Owner (AE only)
Unfortunately, sales was not converting the leads into opportunities in a timely manner or converting the leads incorrectly.  When the process broke down, tracking was difficult and reporting was incorrect.  The reports would tell the story to management that the outside agency was not delivering quality leads.  When quality leads were not being generated, future marketing programs were in jeopardy of being funded.  As the saying goes, "!@#$ rolls down hill"!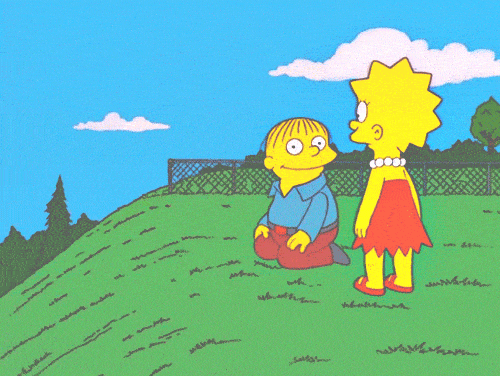 For context, our client has a robust outside sales team comprised of Account Executives (AEs) spanning across geography and industry.  They also have an inside sales team made up of Sales Development Representatives (SDRs).  Marketing does own some responsibility of generating leads for the sales team internally.  The marketing team also outsources a portion of these lead generation programs to specialized outside agencies.  In this example, they utilize a high volume appointment setting agency that secures meetings with approved titles at target accounts through outbound marketing tactics (eg. phone and email).  The outside agency enters the leads details into our client's Marketo system through a web form which is automatically synced to Salesforce.
SiriusDecisions Demand Waterfall Model
Our client follows the SiriusDecisions Demand Waterfall model in terms of demand management process.  It is a modular framework designed to bring alignment and consistency to the demand management process.  It has been around since 2006 and has evolved a few times.  Between 2006 and 2012, the industry saw widespread adoption of marketing automation and the maturation of the teleservices function.  From 2012 onward, it has evolved in the definition and interactions of buyers, increased visibility earlier in the demand management process and the impact of account based marketing (ABM).  Below is a diagram of the second version of Demand Waterfall model.  I've circled the Teleprospecting Qualified Lead (TQL) component in yellow as this would equal what the outside appointment setting agency is delivering to our client.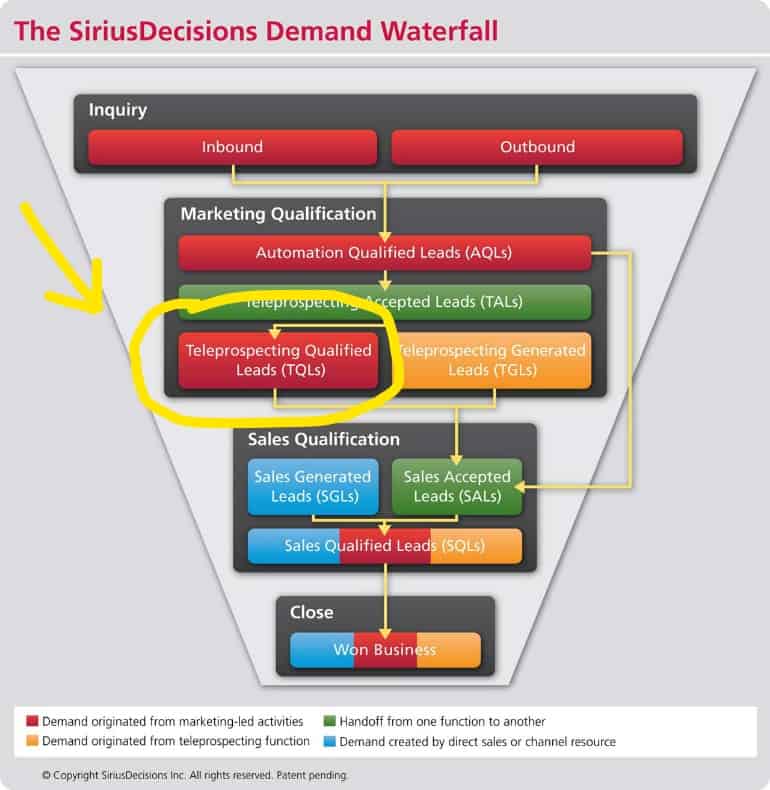 Problem
I recently Googled "What Makes a Good Salesperson"?  Here are the top qualities.
Ability to Listen
Empathy
Hunger
Competitiveness
Networking Ability
Confidence
Enthusiasm
Resiliency
Our client's AE's exemplify these qualities.  They are really good, at well, selling!  You may notice "detail oriented" is not a quality listed.  Details are not high on their list of tasks to care about especially when it comes to the mundane task of Salesforce data hygiene.  Yet… bad data in, bad data out.
Here's the problem, CRM data hygiene needs to happen one way or the other.  Successful organizations thrive off of good data.  If the data is inaccurate, there will be consequences.  In our client's case, the marketing team (and the outside agencies contract) succeeds if the outside lead generation program succeeds.
Solution
Our client's marketing team asked me to be an "extension of their in-house marketing team" to take on the lead conversion task and relieve the sales team of these details.  To get started, I needed the appropriate access to their Salesforce with the correct permissions.  I also required training from member's of their sales and marketing operations teams.  Once I had these under my belt, I was up and running.
Benefits
Here are five benefits of why marketing should own Salesforce lead conversions when using outside appointment setting agencies.
Improves tracking for outside appointment setting agency leads
Helps eliminate duplicate record creation in Salesforce
Makes process more efficient
Able to better track outside agencies impact on demand gen funnel (MQL to Opp) and have 100% tracking on opps and pipeline
Frees up time for the AEs to do what they do best… sell!
Here's a flow diagram of the revised process…
Final Thoughts
The Salesforce lead conversion problem is not unique.  How about your organization?  How does your sales process address this?  Learn more about CTG's sales and marketing technology tool and support services here and how we may help.