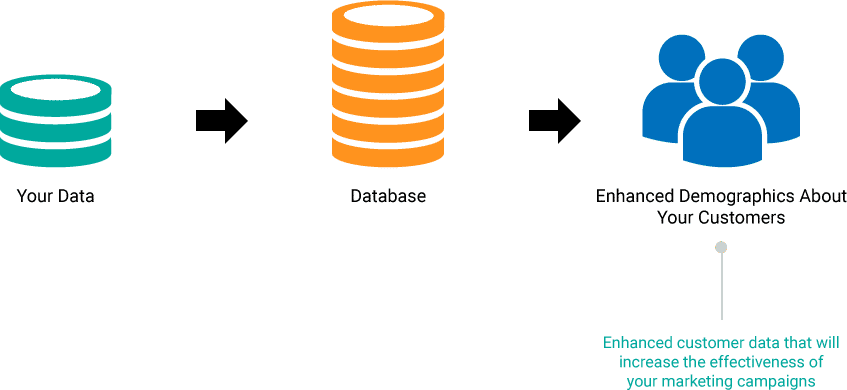 WHAT IS DATA APPEND?
Data append is the process of taking an existing customer database or prospect list and matching it against another database to fill in any gaps or missing information.  Appended data benefits are increased sales connect rate, improved email deliverability, improved client retention and customer service.
FREQUENT QUESTIONS ABOUT DATA APPEND
What data is included?
Data may include company name, industry, employee headcount, annual revenue, geography, technologies used, name, title, corporate email, business phone, mobile phone, LinkedIn profile, Twitter handle and other data.
What is a typical use case?
Trade show booth visitor lead lists, webinar lead lists, CRM and/or MAP data.
How long does it take?
It really depends. It can take a couple of days to append your data, however, most requests tend to be more nuanced. Contact us today to discuss your organization's needs.
CLIENT'S TESTIMONIALS
CTG has been a tremendous asset to our North American sales and marketing operations.  They have supported us and the Head Of North American Marketing on a variety of different outbound lead generation and top of funnel campaigns in a highly competitive email and web security and compliance market. They also helped us land a software evaluation with a 10,000 employee government agency. It has been great working with CTG and I would highly recommend the organization.
North American Sales Director
Global Enterprise Cybersecurity Solution Vendor
CTG helped bring focus to our sales and marketing efforts. We researched many sales and marketing tools out there but CTG helped bring clarity to our final decision on a new CRM and they managed the implementation, training and support.
Managing Partner
Software As A Service (SAAS) Firm
CTG has been instrumental with helping build our online e-commerce infrastructure with Wordpress and Woocommerce.  They have also increased our lead flow through expertise in Google Adwords which has generated higher sales for us each month with significantly reduced ad spend. Our click-through rate has never been higher helping our bounce rate become enviably low! I highly recommend CTG for your next e-commerce project or Google Adwords campaign. They are organized, communicates well, and follow through on their commitments and tasks.
CEO
E-Commerce Firm